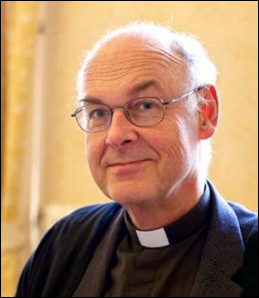 Revd. Canon John Paton
The Churchwardens, PCC members and Parishioners are delighted to announce that our Priest-in-Charge, the Revd John Paton is to be made an Honorary Canon of Christ Church Cathedral, Oxford in recognition of the distinguished service he has given to the Church in the Oxford Diocese. We wish to congratulate John and do hope that he will enjoy belonging to the College of Canons as well as continuing to make a contribution to life at the Cathedral.

John will receive this honour at the service of Evensong, Christ Church Cathedral, Oxford on Saturday 27th January 2018 at 6.00pm. At our Service today, John invited us, the parishioners of St Mary's to join with him on this special occasion.
The Revd John Paton
John Paton hails from Devon and studied at Merton College, Oxford. He worked in the legal office of HM Customs and Excise before training for ordination at St Stephen's House. John served his title in Sherborne Abbey and later became the Succentor of Southwark Cathedral and a chaplain to medical students. He was the priest of St Mark's Purley and more recently the Precentor of Oxford's Christ Church Cathedral. He is soon to move to become the Priest in Charge of the Sulhamstead Abbots and Bannister with Ufton Nervet Benefice.